Well this has been a very interesting week for Cancer Warrior Jessee.  Right after the last posting the very next day she wouldn't eat, could barely walk and we were extremely worried.  Oncologist said to stop chemo drug immediately and prescribed anti nausea meds for her (on Sunday).  By dinner she was eating chicken breast out of dad's hand.  Still trouble walking.  Now I know my baby girl and I know she totally overdid it the day before.  I should have stopped it but she was having such a good time jumping up and barking at the birds, the clouds, the planes, whatever. I just didn't.  I sat back and enjoyed it.  I was not real comfortable with stopping chemo but both our oncologist and vet said do it!  So we did.  Jessee was eating fine by Monday morning and she had an accupuncture treatment on her rear legs which also helped.  So, we waited until our oncology appt on Thursday for X-rays.  Worried sick of course.  After 7 chemo treatments (2 with the first drug that made her so sick, and 5 with the second drug) the nodule is the same or slightly larger which I'm encouraged by.  There are no new nodules at this point.  She also has good bloodwork and managed to gain a pound after all the chemo sickness from the first drug.  So of course we stopped at McDonalds and she got two plain burgers cause that what she gets to do after a chest xray.  The new plan is we have her back on the second chemo drug, Dasatinib every 48 hours.  Next chest xray mid August.  Her routine now on chemo day is she gets a Xanax and a peptcid about 1.5 hours prior to the chemo.  She will then eat a nice dinner and after that she gets the pill and totally crashes.  No moaning or groaning which oncologist thinks is her delicate system reacting to the drug.  No shaking.  She lays on the couch with her head in our lap snoring away.  The next morning she eats about a 80% breakfast.  Noon and dinner are normal.  The second day is totally normal.  Her mobility is back to what it was.  I will not let that happen again!  When I asked oncologist now what, we hope to get the nodule into remission or she would continue on chemo until she can't handle it any more, like a maintenance dose or we decide that's enough.  Dr. also said this may not be an osteosarcoma spread, no way to really know.  Hopefully it's not.
Anyway, as usual here's a couple Jessee pictures.  Sorry for this being so long, it was a very intense week.  First picture is from CA days, she did love to swim.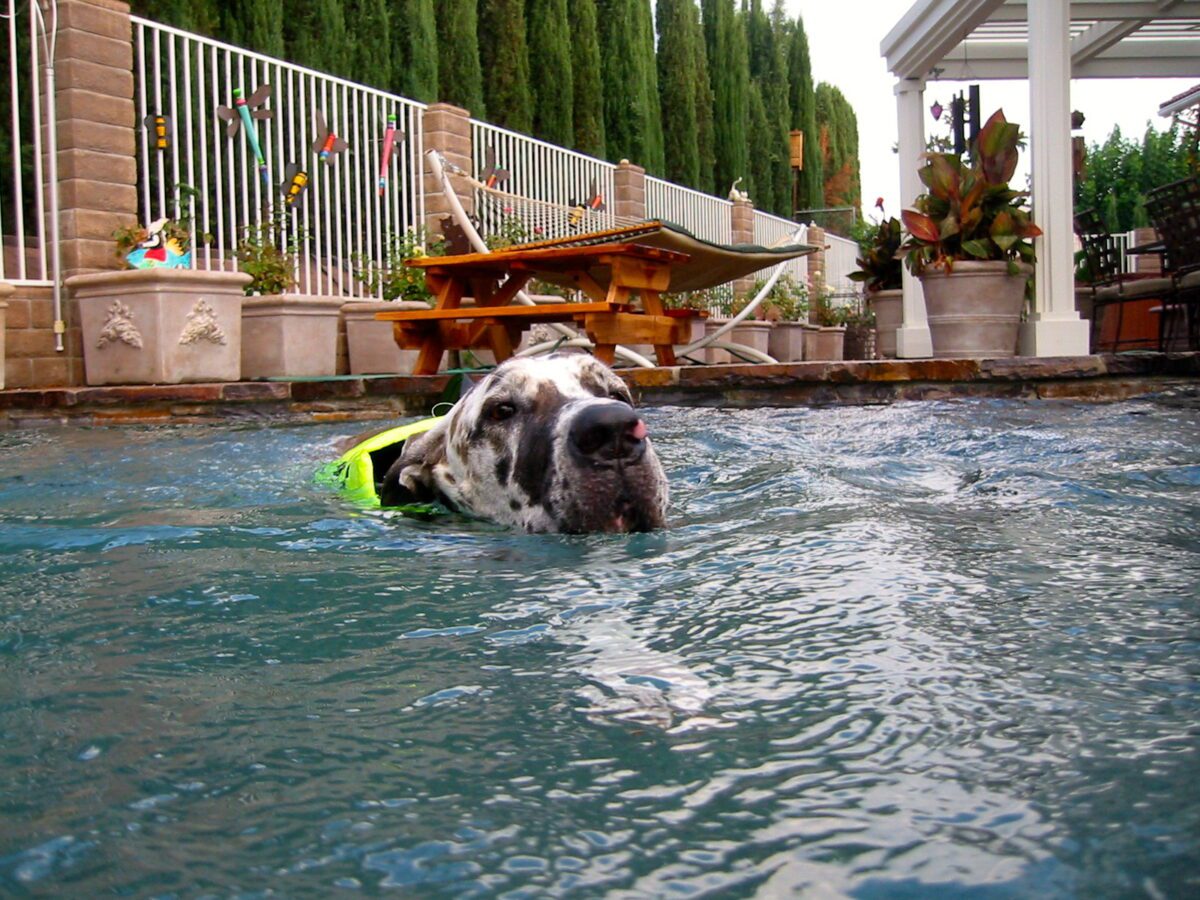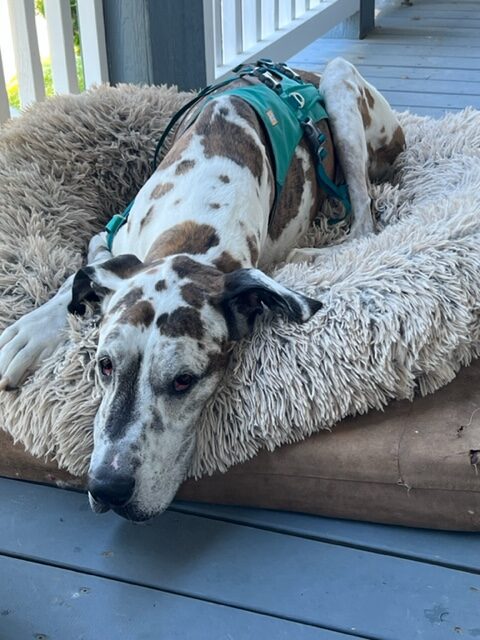 Resting after mom let her play too much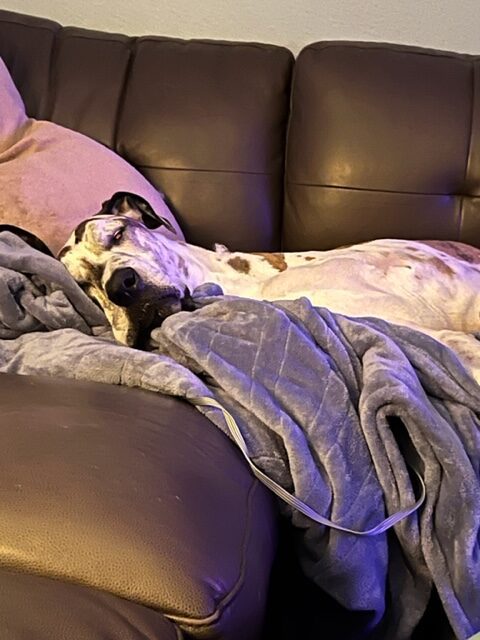 And zonked after chemo treatment plan.
Bye for now……