So I'm going to start with our sense of humor here in Sequim WA.  This is what I determined Jessee's problem to be!  A Great Dane foot sticking out of the side of her head lol.  Just kidding of course, that's how her brother sleeps next to her on the couch and apparently it's just fine with her.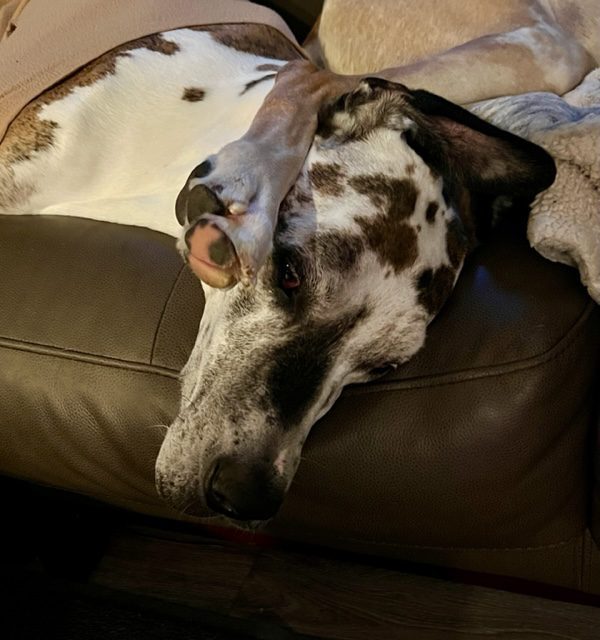 We got the radiology report today back from Dr. Rizzo.  It confirmed one nodule visible.  Nothing else.  Both the radiologist and Dr. Rizzo are in agreement it's most likely a metastasis from the osteosarcoma, that nasty vile stuff grrrrr.  Her urine sample we had analyzed was clear, yay!
So on Thursday her new compounded meds to deal with this nodule arrived.  She is taking Sirolimus 4.8 mg (Rapamycin) once daily.  Two pills are in her right now cranking away.  So far everything is good.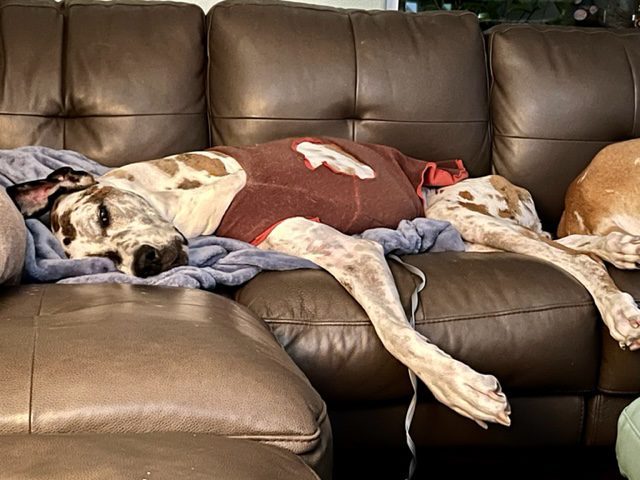 This is how she spends the evenings, laid out on the couch with her electric blanket on low snuggled butt to butt with Jaymee.   She's been a bit slow the last couple days but we actually had sunshine here in Sequim and she was laying outside on her elevated bed.  However, every time a bird flew over, a plane flew over or there was any noise she had to jump up and run across the yard to bark.  I think she's just over did it.  She had a Assisi loop treatment today as well as a some nice leg massaging.  My girl wants for nothing lol.  Will keep this updated as we continue our journey. Feeling good for now!